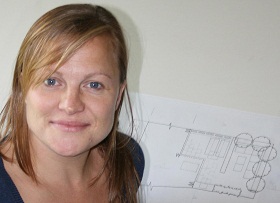 About Me
Having studied at school to A'level standard in Art, I returned to my artistic roots some years later to study Garden Design at Merrist Wood College in Guildford and gained a diploma with Distinction. I also have a BA Honours degree in Hispanic Studies from Manchester University.
I live in Shaftesbury in Dorset in a property set amidst the Blackmore Vale, a stunning location from which to draw inspiration for my work. I am married and have three young boys.
Scope
I relish the opportunity to design both modern and traditional gardens in addition to gardens with a more specific purpose such as wildlife gardens or the inclusion of specific elements such as water. While ensuring a unique product I have a good understanding of the importance of not only quality planting and hard landscaping but the effect of lighting and the introduction of furniture or sculpture within a space. A design, while taking into consideration all of these factors should also possess something of the exceptional.
Have a look at my portfolio page for a greater insight into my recent work.